INFOBOX: TorqueVario® -S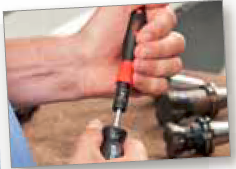 Variably settable torque tools.
For controlled fastening in a large range of applications.
Torque value is continuously adjustable thanks to the torque setter adjusting tool.
Distinctly audible and perceptible click signal when set torque is reached.
Each Wiha screwdriver handle provides a perfectly correlated ratio of guidance, speed and torque for any fastening task.
Certified individual item testing directly after on-site production.
Broad selection of interchangeable blades and adapter blades.
Variably settable torque limit

Order-No.
Nm
+-%
 Ο
 ↔
 
36849
0.04-0.46
10%
4
127
23
1
26888
0.1-0.6
10%
4
127
23
1
36850
0.1-0.6
6%
4
127
23
1
26461
0.4-1.0
6%
4
127
23
1
26462
0.5-2.0
6%
4
131
30
1
26463
0.8-5.0
6%
4
138
36
1
26464
2.0-7.0
6%
4
142
41
1
Precision in range of 0.1-0.46 Nm. DIN EN ISO 6789