INFOBOX: LiftUp 26one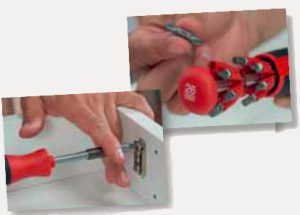 Most of the world's common drives in one tool!
The LiftUp 26one has 13 double bits; 12 in the magazine and 1 double bit in the bit holder.
The bit magazine opens out at the press of a button, enabling the removal of the bits.
Unlimited access to low-lying screws thanks to the automatically locking SuperSlim button holder.
Powerful screw fastening or loosening thanks to the lrge scredriver handle.
Assorted with 13 double bits in blister pack, 1/4″

Order-No.
40907
 
 
T10 – T15 / T20 -T25 / T27 – T30
    
 
PH1 -PH2 / PH0 – PH3
 
 
PZ1 – PZ2
 
 
#1 – #2
 
 
0.5 – 4.0
 
 
3 – 4 / 5 – 6 / 3/32 -7/64 / 1/8 – 9/64 / 5/32 – 3/16